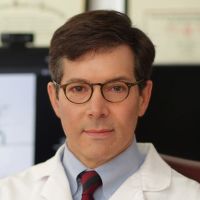 Philip Meyers, MD, FSNIS, the 19th president of the Society of NeuroInterventional Surgery, is this year's Grant Hieshima Luminary Lecture.  He became a member of SNIS (then ASITN) in 2000.  From 2003-2016, he served in multiple capacities.  He founded the SNIS Standards and Guidelines Committee in 2006 and was inducted as a Fellow of the Society of NeuroInterventional Surgery (FSNIS) in 2017 as part of the inaugural class.
Dr. Meyers received his B.A. degree magna cum laude from Harvard University in 1985 and his M.D. degree alpha omega alpha from Case Western Reserve in 1989.  He trained at the University of Cincinnati College of Medicine under the direction of Drs. Robert I. Lukin, and John M. Tew, Jr.  He completed his fellowship in diagnostic neuroradiology with Dr. Thomas A. Tomsick.  He then completed his fellowship in interventional neuroradiology and neuroendovascular surgery at the University of California San Francisco with Drs. Randall T. Higashida, Van V. Halbach, and Christopher F. Dowd. He holds a subspecialty certification in Neuroradiology and Recognition of Focused Practice in Central Nervous System Endovascular Surgery by the American Board of Medical Specialties.
His residency was punctuated by his father's untimely death at which time Dr. Meyers became President and CEO of Meyers Development Corporation and Williamsburg Management Co., Inc. in 1991.  With more than 500 employees, the company moved from development of multifamily housing and retail space into retirement and skilled nursing facilities.  Following a period of three years with annualized growth exceeding 250%, he sold the company to Chicago conglomerate, Senior Lifestyles, Inc. in 1996.  Dr. Meyers was then able to resume his medical career and complete his training at the University of California at San Francisco.
Shortly before 9/11, Dr. Meyers accepted a faculty position at Columbia University in New York City.  He later became Co-Director of the new Neuroendovascular Service at New York-Presbyterian Hospital.  By 2015, he became Professor of Radiology and Neurological Surgery at Columbia University, Vagelos College of Physicians and Surgeons.  Dr. Meyers' research interests include cerebral vascular autoregulation, endovascular cerebral revascularization therapy, and the development of MRI-based endovascular procedures.  He was awarded a grant for MRI-based treatment of cerebral arteriovenous malformations by the Charles M. Dana Foundation.  This study was part of a larger collaboration at Columbia University to develop the capacity of MRI to perform routine endovascular procedures for treatment of stroke, brain tumors, and vascular malformations funded by a grant from General Electric, Inc.  In 2017, he was elected to Columbia's prestigious Academy of Clinical Excellence.
Dr. Meyers practiced at New York-Presbyterian Hospital until 2020.  He contributed to the development or characterization of many neurointerventional devices that are currently used daily in the practice of neurointerventional surgery and participated in numerous clinical trials as site investigator or PI such as MERCI, Multi-MERCI, MR RESCUE, SAMMPRIS, HELP, and others.  He was co-PI of Stryker SCENT and Medtronic APOLLO studies.  He was External Monitor for IMS-III and has served on DSMB or CEC for numerous other studies and trials such as ATLAS, EVOLVE, MIND, and CITADEL.  He served on the Scientific Advisory Board for Concentric Medical before its acquisition by Stryker.  Dr. Meyers has published more than 300 peer-reviewed scientific papers in journals such as such as American Journal of Neuroradiology, Annals of Neurology, Journal of NeuroInterventional Surgery, Journal of Neurosurgery, Neurosurgery, Radiology, Ophthalmology, and Stroke, as well as reports, book chapters, commentaries and presented at national and international scientific convocations.  He has been active in many training courses and conferences.  Dr. Meyers is a member served on ad hoc and program committees of the American College of Radiology, the American Society of Neuroradiology, Society of NeuroInterventional Surgery, Society of Interventional Radiology and the American Medical Association.
Through a combined research and training program with Weill Medical College of Cornell University, Columbia University has been one of the major neuroendovascular fellowship training programs in the United States with CAST accreditation. He is immediate past chairman of the Neuroendovascular Surgery Advisory Council, a multidisciplinary collaboration among Radiology, Neurosurgery, and Neurology to define appropriate cognitive and technical training in neurointervention.
Dr. Meyers married his wife, Jennifer, in 1991.  Jennifer holds a master's degree in Nursing Administration and previously worked in the Pediatric Intensive Care Unit at Cincinnati Children's Hospital.  They raised four children: Bianca, Sydney, Philip, and Samantha in Scarsdale, New York.  They currently have two grandchildren: Nina and Quinn.
It is an honor for SNIS to have Dr. Meyers as this year's Grant Hieshima Luminary Lecturer.